Congratulations to Kim Chung who was awarded the 2021 Stoltz Design Internship!!
Applications are currently closed but that doesn't mean we're done sourcing great talent. If your interested in joining our team, drop us a line!
We See Your Potential Internship
Calling all college seniors or recent graduates who fancy visual blogs, care about kerning and appreciate the subtle difference between Pantone 2034 and 2035. We see your potential. Summer 2021 is going to be full of adventure, and we look forward to having a graphic design intern join our team starting May 31, 2021.
Wait for it….yes, in-person!
The We See Your Potential Internship consists of working in an exciting, fast-paced (we think pretty cool) environment 30-40 hours a week for 8 weeks. We will fill your brain with design insight, business acumen, and random factoids from over 20 industries as you collaborate with a team of highly-talented, kind, creative humans.
Here's the knitty-gritty: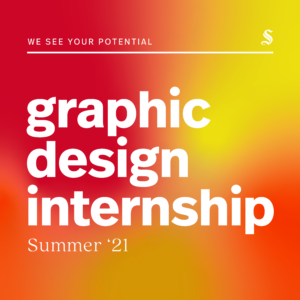 Requirements
• Senior pursuing a degree in graphic design or visual arts. Graduates also welcome.
• Availability to work 30-40 hours/week this summer, Monday-Friday, during business hours.
• Proficient skills in Adobe Creative Suite: Photoshop, InDesign, Illustrator, XD. Premier Pro, After Effects or photography skills a plus.
• Practice professional behavior among colleagues and clients.
• Show excellent communication skills, organization, and attention to detail.
• Keep diligent time.
• Work collaboratively in a team environment.
• Respect deadlines.
• Take notes in meetings.
• Demonstrate passion for design in all mediums: print, digital, UX/UI, animation.
• Participate in print and digital design production. Examples would include resizing of digital ads, social media ad creation, web asset building, identity design, billboard production and mockups.
• Generate ideas.
• Follow art direction from creative team leads.
• Participate in photo and video shoots.
• Keep a great sense of humor.
Pay: $15/hour
Timeframe: May 31st – August 2nd.
Location: Stoltz Corporate Headquarters, Downtown Boise, in-office.
We will supply a computer, software, supplies, coffee, snacks, field trips to the art museum and occasional free lunches.
Always welcome: Ideas
Never welcome: Egos
Interested in applying? Please visit the application webpage and fill out the form by April 23, 2021. Finalists will be contacted for video interviews by April 20th. Thank you for your consideration!