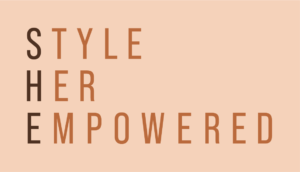 For our 100 Hours nonprofit program in 2020, we partnered with Style Her Empowered (S H E), an Idaho-based nonprofit that creates sustainable education and employment opportunities for girls and women around the world. And we are huge fans!
Since their founding in 2017, Style Her Empowered (S H E) has been on a constant, upward journey of evolution. What started as an idea for sustainable school uniforms is now an international organization with a mission that goes well beyond uniform manufacturing. With the need for advocates of women's rights and safety increasing around the world, their work in Idaho and Togo, Africa, is just the beginning. Additional manufacturing centers are in the works (exciting!), and new partnerships are being forged – the future is big for S H E.
From the early days of our partnership, we were blown away by the incredible branding work founder Payton McGriff and the small, yet mighty, team of S H E staff and volunteers has already done. The groundwork had been laid, we simply came in to distill and polish. Our 100 hours of donated time resulted in a beautifully inspiring Brand Guide and sustainable product branding system. And when we say sustainable, we mean it. Everything we created was done with a focus on financial, operational, and environmental sustainability, down to the garment tags that can be printed in-house fully utilizing one single sheet of recycled paper. With these new tools in hand, S H E is even more empowered than before to tell their story and grow their impact on girls and women around the world.
Because when women rise, we all rise.