Owning Up: Women in Leadership Series
Women held 31.7% of top executive positions across industries in 2021. At Stoltz, we know women make great leaders—and we envision a world where there are an equal number of women in leadership as men. We asked several women we admire who hold leadership positions, or are experts in their field, to share their experiences with us and what leadership means for them. Here is one of their stories.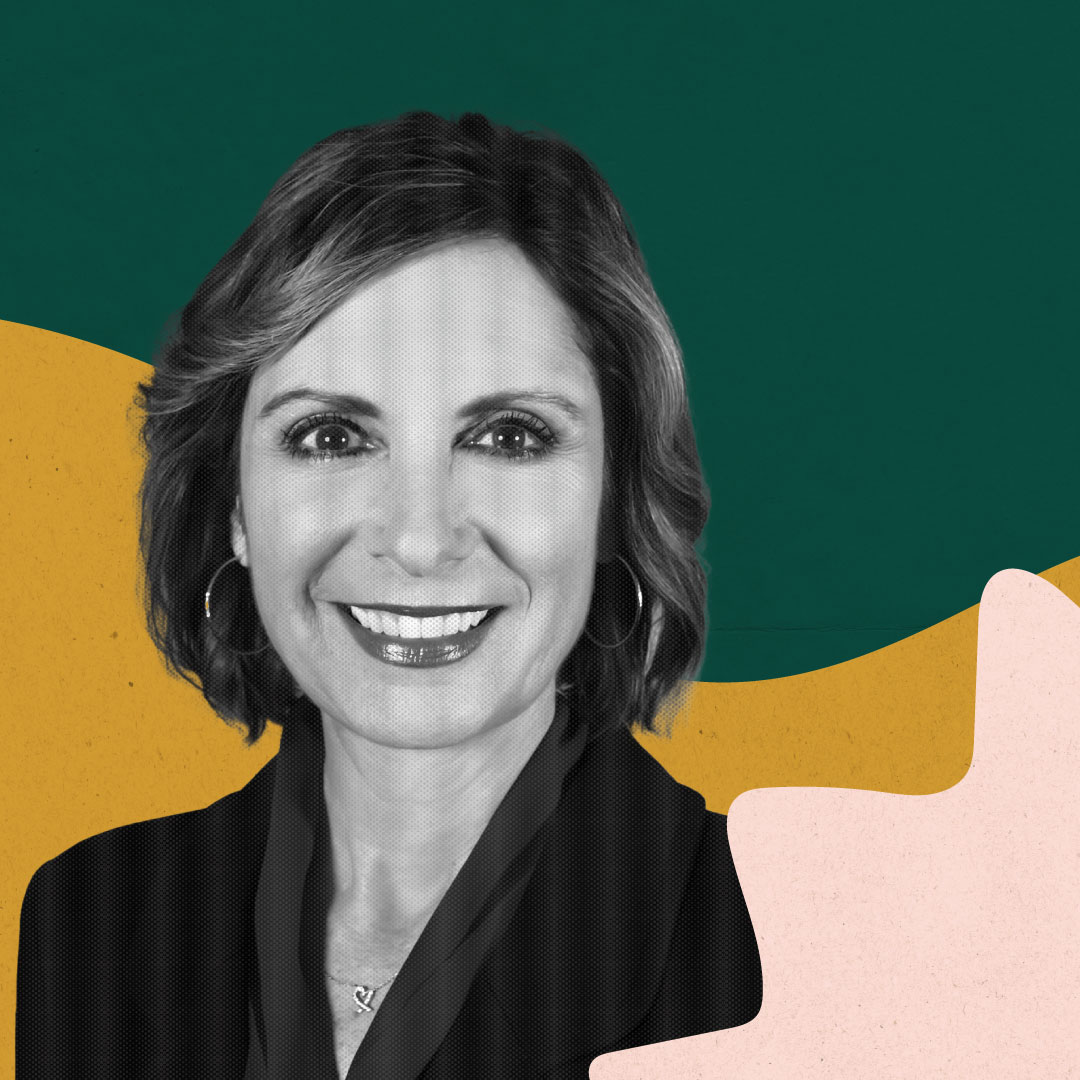 What to do when you get laid off. Lessons learned from a Silicon Valley B2B executive who's been there.
— By Marina Donovan, Marketing Executive
Imagine it's your birthday. Your boss, who's so fun and always acknowledges personal and professional milestones, asks for a meeting. You're thinking, "Gosh, he's going to throw a surprise party for me." You walk into the room and are greeted by an HR manager holding a big white envelope. Your mind races: "What the (insert expletive here) is happening?" Then it hits you. You're getting laid off due to budget cuts.
I don't have to imagine it because it happened to me. Fortunately, in that case, I was given a good severance package and the time to find my next opportunity.
With layoffs making headlines lately, I thought I'd share what I've learned after being laid off in Silicon Valley. While a layoff is difficult to go through— you will get through it—and often end up in a better position. Here are my best practices for getting you through this difficult transition:
Grieve
So, you've been laid off. You've suddenly lost your day-to-day routine that included social interactions with colleagues who have become good friends. Once you've had time to process what's happened, give yourself permission to grieve—but make it brief. Call a friend. Get lunch or dinner with friends and family. Vent and get it off your chest.
Once when I was laid off as the result of a plant closure, one of my colleagues turned one of the cubicles into a bar. We created a place and time to share stories, process what was happening, and acknowledge the good run we had. If you don't have the luxury of a makeshift cubicle bar, your local hotspot or a glass of wine on the couch works, too.

Assess
Once you're past the shock, it's time to assess your situation. Are you protected by the WARN Act? If you are, that's great as you have more time to get your ducks in a row and may be able to job search with a work-related email address—not to mention the added relief of two more months of benefits.
On the other hand, you might be blindsided like I was one time where I was laid off with no package. You've always heard you should have three to six months of living expenses saved—this is why. You're going to need it.
Mobilize
Figure out your finances. How much runway do you really have? If your runway is, well, short, think about consulting. It's a good way to keep yourself on a schedule, earn money, and stay sharp. I consulted each time I was laid off, which was a healthy way for me to channel my extra energy while learning something new.
Clean up your social media, and especially update your LinkedIn profile. Don't forget to get references on LinkedIn. Companies review your profiles, and they want to see reliable people who look like they can get the job done well.
Update your resume and get objective input from colleagues on both your resume and your LinkedIn profile. What's your story? What are you about? What can an employer expect from you? What are you like to work with? Have it proofread multiple times—and then continue to keep it updated even after you land your new job.
If you're fortunate to get outplacement services, use them. There are valuable nuggets of information there about the job search process—everything from social media profile optimization to interviewing skills and salary negotiation.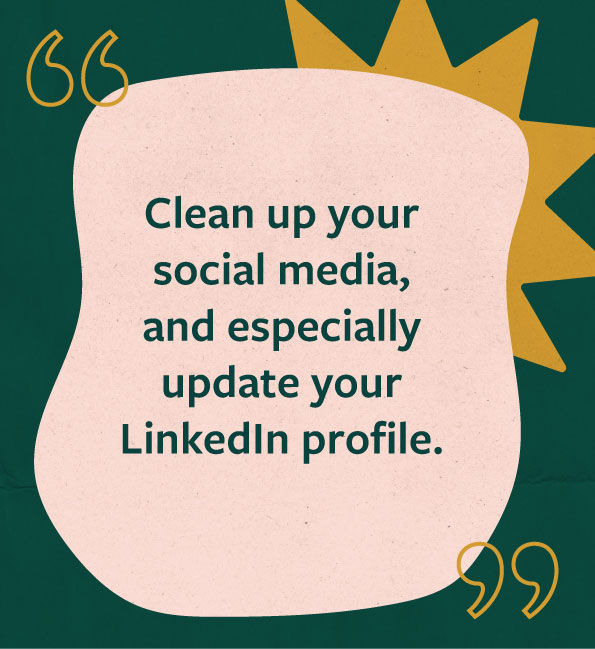 Routine
Your routine has been upended, and it's time to create a new one and stick to it. While cooking every recipe on your Pinterest board and reality TV binges may be the more appealing routine, it's not going to push you forward. I recommend your new routine prioritizes the following:
Job searching: It may seem obvious, but there are ways to optimize your search efforts. Spend three hours a day dedicated to your job hunt. Devote time to networking and reaching out to colleagues, family, and friends who can give you insights into companies that are hiring, and they may be open to making introductions for you. You can search online for job openings, fill out job applications, and research potential employers. When you do see an opening, check to see if anyone in your network works there. If so, in addition to applying, ask your connection to submit your resume. Employees are often eligible for referral bonuses.
Self–Care: I never seem to have time and money for self-care simultaneously. While money may be tight after a layoff, at least you have time to be more intentional about taking care of yourself. I usually step up my exercise routine and prepare more nutritious meals.
Relationships: If there was ever a time to nurture your relationships, it's now. Make plans with those you've not been able to see or talk to—FaceTime counts! Surround yourself with quality people who lift you up.
Bettering yourself: Consider getting a coach or asking a colleague to check in with you once a month to pump you up and keep you going. Books can also be very helpful. I love Transitions: Making Sense of Life's Changes by William Bridges.
Staying positive: What you're going through isn't easy, so find ways to help yourself stay positive. Get back into a hobby you love or finally download that meditation app—but make these a smaller part of your routine.
Momentum
Generate as much momentum in your search as possible. The more jobs you seek, the more opportunities you will create for yourself. Don't limit yourself to your local market either—the advancement of remote work has created more opportunities elsewhere. Apply for jobs where you are qualified and have a genuine interest. Create a spreadsheet or project plan to track your progress. I recommend at least three tabs:
Tab 1: Make this a snapshot of each role and company. Add columns to note things like: What's the growth trajectory? What products or services do they specialize in? Do your skill sets or interests align? What's the culture like?
Tab 2: Track the jobs you've applied for and when, application status, and next steps.
Tab 3: Document your networking efforts. Make note of who you met with, what happened, and any next steps.
If you start to feel discouraged, you can review that document and reassure yourself that you are working on it. If you aren't getting traction, maybe you need to take a step back and modify your approach, but it's all recorded.
Interviewing is a process
Most companies have you meet with a recruiter first. Be prepared for this meeting. They are working to ensure a match.
If you pass that gate, it's possible you've got your first interview. A first interview practically mimics a first date. What should you wear? Will you have a rapport with your interviewer? Is it too soon to discuss salary? Yes. However, this may have been asked in the HR screening interview so be prepared for that question and give a sensible salary range. Depending on the job and company, you could have three to 10 interviews before you land the job. Interviewing is your opportunity to shine and set yourself apart from your competition, so it's important to prepare accordingly. Below are my top three interview tips: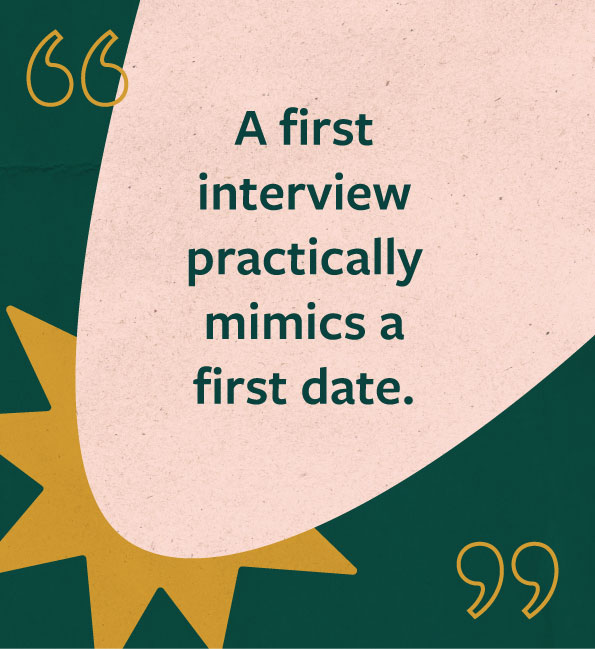 Prioritize the first impression: Your job during this process is to set your best foot forward while learning if this job is a fit for you. Arrive to the interview on time, wear something appropriate, establish good eye contact, and smile.
Do your research: I know it seems basic, but it's important. Spend at least two hours doing primary and secondary research looking into this potential employer. If you know people who work there, reach out to get the scoop.
Plan ahead: Prep questions before you go into an interview and take the time to look up the people you will be talking with. Find out what the interviewer cares about—what's the gap they are hoping to address? Have them describe their ideal candidate. Also, it's important to send a thank you email. It's not appropriate to send a LinkedIn request unless it was discussed. It's too soon for that.
Play the game and keep the faith
Landing a new job is hardly ever linear. Keep your expectations low while applying for jobs and networking. I've been in final interview rounds with companies and then hit with radio silence. It's okay to follow up when this happens to indicate interest, but you also can't be crestfallen if you don't get a response. Remember, it's not personal.
I always aim to have three potential employers in the running and make sure to have my references lined up ready to go. Rejection is part of the process. If you get rejected, tell yourself "NEXT" and the best opportunity is waiting for you.
You got the job
You've made it to the other side! Congrats! And hopefully with more than one offer and a job you're excited to start. Sometimes you need to take a job even if it's not your top choice. That's okay—look at it as the best next step to reaching your ultimate position. There's still an opportunity to learn and grow. No matter what, it's time to carefully negotiate your package and get ready to start your new chapter.

The bottom line
Getting laid off has taught me I'm resilient and know how to hustle. It's a stressful time with highs and lows, but the sooner you can mobilize your search, the better. Yes, it would be easier to avoid the job search process, but you must deal with it and keep the faith that it is going to be okay. And you know what? It will be. I've been fortunate to have had the opportunity to work with wonderful people and, yes, some characters too. Getting laid off isn't the end of the world. Think of it as an opportunity to learn about yourself and grow in many ways. It's sad to say goodbye to your routine, your work, and your colleagues, but you can still stay in touch. With each job ending, I've always ended up in a better place on the other side—and wish the same for you.
These opinions are my own, not those of my employer.