Why is it important for companies to be sustainable?
As if preserving the Earth we live on isn't reason enough for businesses to employ sustainable practices, the benefits are plenty. Businesses that focus on sustainability not only get brownie points from Mother Nature, they have a competitive advantage, increase their brand value, and attract talent. Plus, consumers are willing to pay more for environmentally-friendly brands, so businesses have a financial incentive to increase their sustainability as well.
What does sustainability have to do with marketing & advertising?
Today's consumers are more aware of environmental issues than ever, and they want to make a difference. Data suggests that almost three quarters of consumers are actively choosing more environmentally friendly brands than they were five years ago, and that number is expected to increase. Advertisers and marketers are listening to the conscious-consumer shift and taking the opportunity to highlight the sustainable aspects of their client's products and services. As an agency, we can't just preach sustainability through our clients — we must walk the talk and take on the responsibility, too.
Beware of greenwashing
Greenwashing is a marketing problem where a brand deceptively positions their product or service as sustainable or good for the environment when in reality, it isn't, or has a smaller impact than implied. Check out this retail popup experiment where shoppers venture through a mock clothing store that puts companies' sustainability claims into perspective. Take a graphic tee for example: the tag on the shirt indicates it's made of recycled materials, but it's just the tag that's made of recycled materials — not the shirt itself. This deceptive marketing makes its way into more industries, products, and places than you might think. That organic cotton tote you got to avoid using plastic bags at the grocery store? You'll have to use that 20,000 times before it realizes its environmental impact.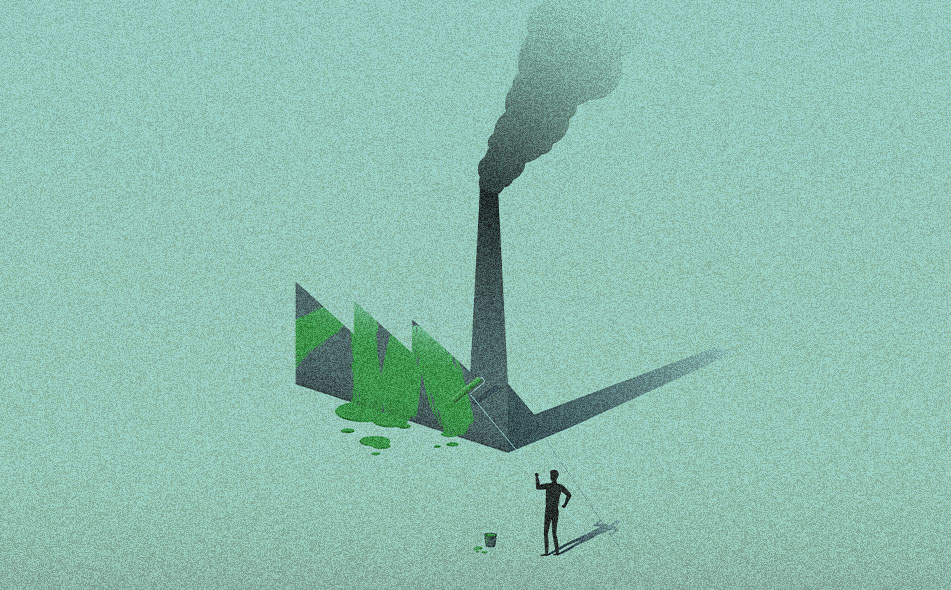 Easy ways to live a more sustainable life
Limit your waste
Use up every last drop of your products to ensure they last as long as possible and to decrease the number of times you have to repurchase another plastic container. Start using up all of your groceries and incorporate "fridge clean-out" meals into your meal rotation. This will limit food waste, a significant contributor to greenhouse gas emissions.
Travel intentionally
Try to use forms of transportation like biking, walking, carpooling, your local bus system, etc. Only resort to SOVs (single-occupancy vehicles) when you need to. Also, you can choose driving over flying when possible. When flying is the best option, look into carbon offsetting programs to help reduce your carbon footprint.
Invest in reusable items
Reusable kitchen towels, sandwich bags, package-free dish soap, and beeswax wrapping paper can be simple, easy ways to be more environmentally friendly.
Focus on slow fashion
Investing in clothing that's timeless and will last for years (rather than a season) is a great way to get the most bang for your buck while being kind to the Earth. Also, venturing to your local thrift stores to buy used or getting crafty with a sewing machine are fun, sustainable ways to shop — not to mention very on trend right now!
When it comes down to it, individuals are not going to solve climate change on their own, but there are things we can be mindful of that do help the issue. To see real change, keep voting, being active in your community, and doing what you can. The extra perk to all of these tips is that they will save you money, too — good for the Earth and your wallet!
How is Stoltz practicing sustainability?
As a marketing agency that represents several environmentally aware clients, Stoltz accepts the responsibility to increase our sustainability as well. Here are just a few of the ways we are working towards reducing our carbon footprint that you can do, too:
Recycling – Not only is our office scattered with classic blue recycling bins, we also utilize what is known as "orange bag recycling" that converts harder-to-recycle plastics into a valuable energy resource. And since we can't live without our beloved Nespresso coffee maker, we utilize their capsule recycling, too.
Transportation – Stoltz provides every employee with a City Go membership and a VRT Bus pass. City Go connects businesses with discounted transportation benefits that aim to reduce the number of single-occupancy vehicles on the street – including benefits for taking a bus, bike, carpool, scooter, rideshare, and even walking. VRT has a fleet of electric buses that produce zero tailpipe emissions. Now that's something Stoltz employees can get on board with! Plus, the buses drop us off at Main Street Station, which is right next door to our office.
Support Local – When purchasing office supplies, stocking our fridge with snacks, securing Stoltz swag, or choosing a vendor, we support and buy from local businesses when possible to minimize our carbon footprint.
Flexible Remote Work – Stoltz has a flexible remote work policy that allows employees the freedom to work from home whenever they want or need. This means less commuting and less CO2 emissions!
Sustainable Businesses to Support

Choosing the right businesses and products to shop at to reduce your personal carbon footprint can feel like a challenge, so we've curated a list of some of our own favorites to help get you started. (*starred businesses are local).
*KIN – We feel like family. We support, nourish, educate, and bicker with one another. We keep each other grounded and pick each other up. We connect and care. We believe in our team and the Boise community and want to do our part to bring the best out of both.