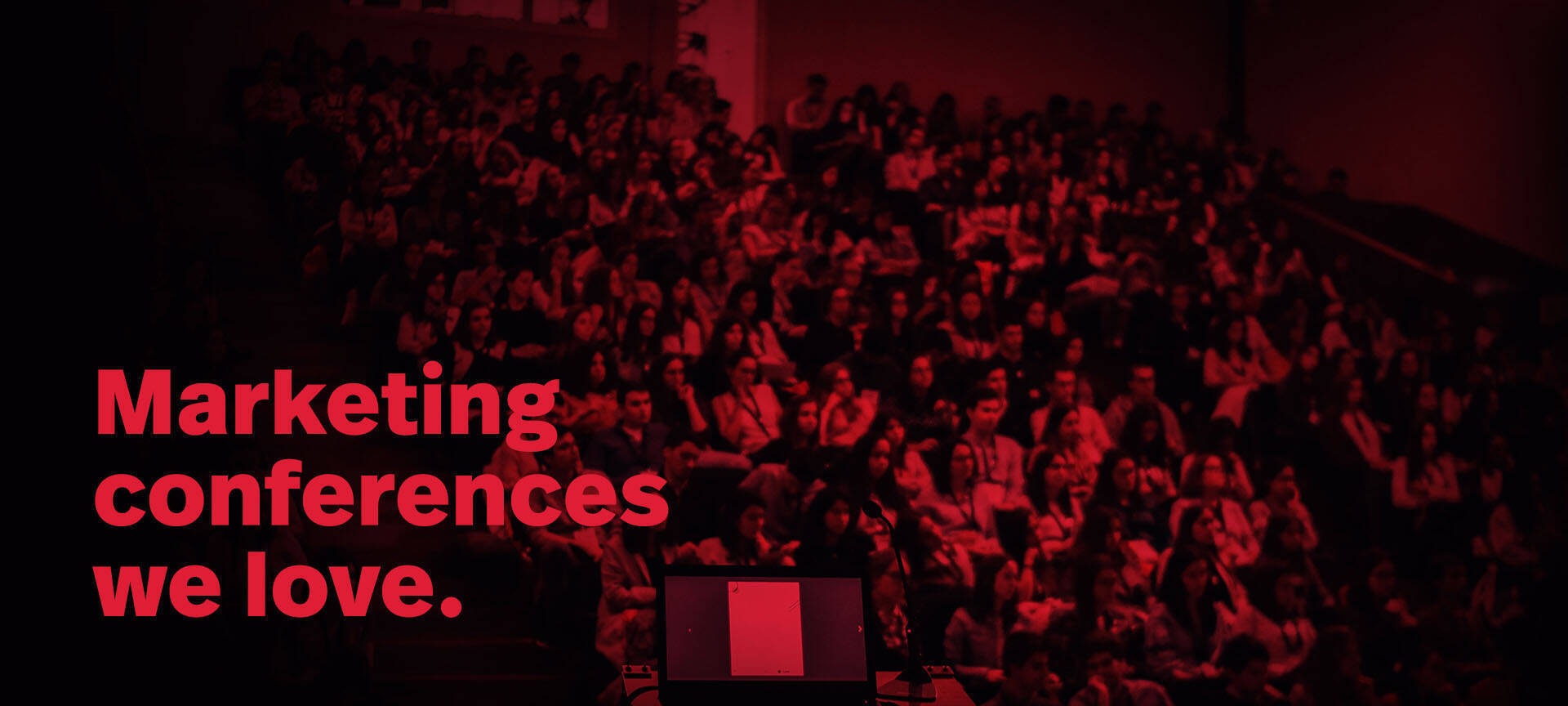 Marketing Conferences Not to Miss in 2020
Marketing Conferences Not to Miss in 2020
In an industry that is always rapidly changing, knowledge is power. Which is why Stoltz prioritizes continuing education. Conferences are one of the best resources for getting inspired, meeting new friends, and learning the latest-and-greatest in marketing trends and technology. But there are so many to choose from! Planning for 2020? Here's our top recommendations:
Creativity and Design Conferences
Date: May 4-7, 2020
Location: Boston, MA
Who should go: Designers, Business Owners, Creative Leaders, Marketing Professionals
Description: Stoltz employees have regularly attended this conference for over the past 15 years. How Design Live features 100+ educational sessions and keynotes from the top creative shops in the world. Topics range from design trends and building better client relationships, to  creative problem-solving and agency culture. There is even a track for in-house creative professionals. HOW also puts on the Dieline Conference for the packaging design industry.
Date: March 2020
Location: Austin, TX
Who should go: Strategy Planners, Executives, Creatives, Branding Experts and Up-and-comers.
Brief Description: Arguably the most innovative and inspiring conference in the world, leading minds in advertising, marketing, and branding come together for this week-long event to share insights on developing effective campaigns using data, neuroscience, storytelling, and the most current technological advances. We recommend attending with a team to "divide and conquer"—over 600 sessions are offered! (Plus some pretty sweet after-hours parties and concerts).
Date: June 3-5, 2020
Location: New York, New York
Who should go: Designers, Web Designers, Creatives
Brief Description: Put on by the most powerful software company in the creative industry, the Adobe 99U conference is a mixture of classes, hands-on workshops and speakers that inspire creatives to supercharge their work and make ideas happen. Transcending all creative sectors, this conference offers several open studio tours ranging from Herman Miller, to the Brooklyn Art Library sketchbook collection, to Pantone.
Date: March 30 – April 1, 2020
Location: Pittsburgh, Pennsylvania
Who should go: Designers, Web Designers, Creatives
Brief Description: If you are looking for a conference of fellow typography nerds, this one's for you! Line up for book signings from design legends, play with hands-on demonstrations, participate in roundtables or portfolio reviews, attend happy hours, learn about the latest in design technology, paper trends, and so much more!
Marketing Conferences
Date: September 2020
Location: New York, NY
Who should go: Ad Execs, Startup Founders, Social Media Practitioners, CMOs, All marketing levels/capacities
Brief Description: 4 days, 98,000 attendees, and 1200+ speakers, this marketing conference is one of the largest in the nation. A professional event by day and a party/music festival by night, Advertising Week is a destination for marketers across the globe looking to see the best of the best in action and learning valuable tools to grow their brands.
Date: September 2020
Location: Boston, MA
Who should go: Product managers, the creatives, start-up founders, any level of marketer
Brief Description: As HubSpot users, Stoltz has attended this conference for the past 2 years and give rave reviews. Even if you are not using HubSpot as your primary CRM tool, Inbound focuses on best practices in branding, features celebrity speakers, innovative talks from marketing gurus, and provides incredible breakout sessions.
Date: February 24-26, 2020
Location: Scottsdale, AZ
Who should go: B2B Marketing, CMOs, B2B Freelance Writers and Strategists
Brief Description: This conference is focused on B2B cutting-edge marketing tactics with 100+ sessions over 3 days. The event also includes an awards ceremony, "The Killer Content Awards," for outstanding B2B marketers and campaigns.
Date: March 1-3, 2020
Location: San Diego, CA
Who should go: Social Media Managers/Directors, Vloggers, Bloggers, Content Amplifiers
Brief Description: This conference is run by industry leading experts from Facebook, Instagram, YouTube, Messenger, LinkedIn, Pinterest, Twitter and more. Sessions include social strategy, social advertising, content marketing, video marketing, analytics, and customer advocacy. Interesting tidbit: most of the attendees are from businesses of less than 100 employees.
Date: September 2020
Location: Cleveland, OH
Who should go: Brand content marketers, Content marketing tools companies
Brief Description: Featuring over 120 sessions and workshops presented by experts from around the world, this conference covers content strategy, storytelling, ROI, demand generation, AI, measurement, and more. Speakers this year include Mindy Kaling and Henry Rollins. 4,000+ brand marketers from 50 different countries attend each year.
Date: TBD
Location: Chicago
Who should go: "Men and women from the worlds of advertising, marketing, PR, tech, non-profits and more…"
Brief description: Although happening this week, The 3% Conference is one to keep on your radar for next fall. With the goal of raising the percentage of female creative directors and leaders in marketing, this two day event offers an incredible line-up of speakers structured around interactive presentations. The 3% Movement also offers one-day mini conferences around the United States throughout the year. These workshops are about the importance of diversity to creativity. We couldn't agree more.
Interactive Conferences
Date: Multiple Dates December – October (About every 6 weeks)
Location: San Francisco, Washington DC, Seattle, Boston, Minneapolis, Orlando
Who should go: Web designers, Front End Experts
Brief Description: Stoltz art directors have enhanced their UX/UI chops by attending the "An Event Apart" conference in Seattle, founded by the infamous Jeffrey Zeldman…A.K.A. the godfather of web design and user experience. Three days of high-end, carefully curated design, code, and content, is presented by modern masters on topics such as digital design, UX, content, and code.
Date: April 21-22, 2020
Location: San Francisco, CA
Who should go: Designers, web developers, programmers, creatives
Brief Description: From their site, "Two full days packed with front-end, UX and all that jazz! Live sessions on performance, accessibility, security, interface design, debugging and fancy CSS/JS techniques — and a few surprises along the way."
Date: July 6-8, 2020
Location: Seattle, WA
Who should go: SEOs, Analysts, Content Marketers, Marketing Consultants
Brief Description: An SEO conference with one focus – SEO. Stoltz's very own, Jake Smith, has contributed editorial content featured at this digital marketing conference. Over three-days, attendees learn about SEM, SEO, mobile, conversion, optimization, local search and more.