Ethics is a daunting and unwieldy topic to write about. Trust me; I've sat down to write — and rewrite — this blog more times than I wish to count. Nevertheless, philosophers have created ethical frameworks to guide our decisions for as long as humans have existed, from Aristotle's Virtue Ethics to Kant's categorical imperatives. An entire field of study called Metaethics aims to answer questions such as, "Is morality more a matter of taste than truth? Are moral standards culturally relative? Are there moral facts? If there are moral facts, what is their origin?"
Have I lost you yet? Because my head is spinning. This kind of confusion leads most of us to follow a simple ethical approach when making decisions in our day-to-day lives — I call it "going with my gut and hoping for the best." So far, this approach has worked well enough in my personal life. But is it enough to guide my profession as a marketer and creative?
At the risk of sounding self-aggrandizing, marketers and creatives yield a lot of power. We create strategies to influence people's decisions, collect data and insights from audiences, create user experiences that help accomplish goals, communicate critical information, tell people's stories, and the list goes on and on. The point is this profession has a profound impact on the world. At Stoltz, we recognize that we are responsible for ensuring our impact is positive and creates as little harm as possible. So, going with our gut isn't going to cut it.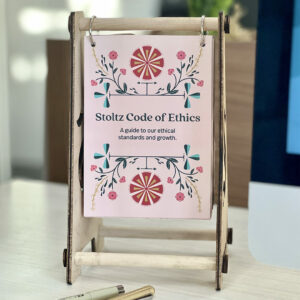 That's what led us to creating the Stoltz Code of Ethics. It's designed to challenge our team to ask critical questions about what we do, why we do it, how we do it, and what the consequences of our actions are. We built a framework unique to our business that cuts through ethical noise and is full of tools from others in the industry to help us navigate and grow from difficult decisions. Ultimately, our code of ethics raises the standard of our work by establishing behaviors and actions that uphold ethical practices that benefit our users, business, and society as a whole.
In it, we define the stakeholders we consider with each action we take and our four commitments: 
We Work Intentionally
We Work With Clients Who Care
We Work for Everyone
We Work to Uphold Human Rights
Each commitment is thoroughly defined to ensure we create our best work that is free from stereotypes, accessible to all, good for our communities, and representative of authentic experiences. We commit to doing work that is more than eye-catching and click-worthy — we create positively impactful work.
This first iteration of our code is just the beginning — a part of our commitment to upholding this code is to revisit it as we further our understanding of ethics, our stakeholders, and our commitments. If you have any feedback on how we can improve our code of ethics, please email [email protected].
View the Stoltz Code of Ethics