Owning Up: Women in Leadership Series
Women held 31.7% of top executive positions across industries in 2021. At Stoltz, we know women make great leaders—and we envision a world where there are an equal number of women in leadership as men. We asked several women we admire who hold leadership positions, or are experts in their field, to share their experiences with us and what leadership means for them. Here is one of their stories.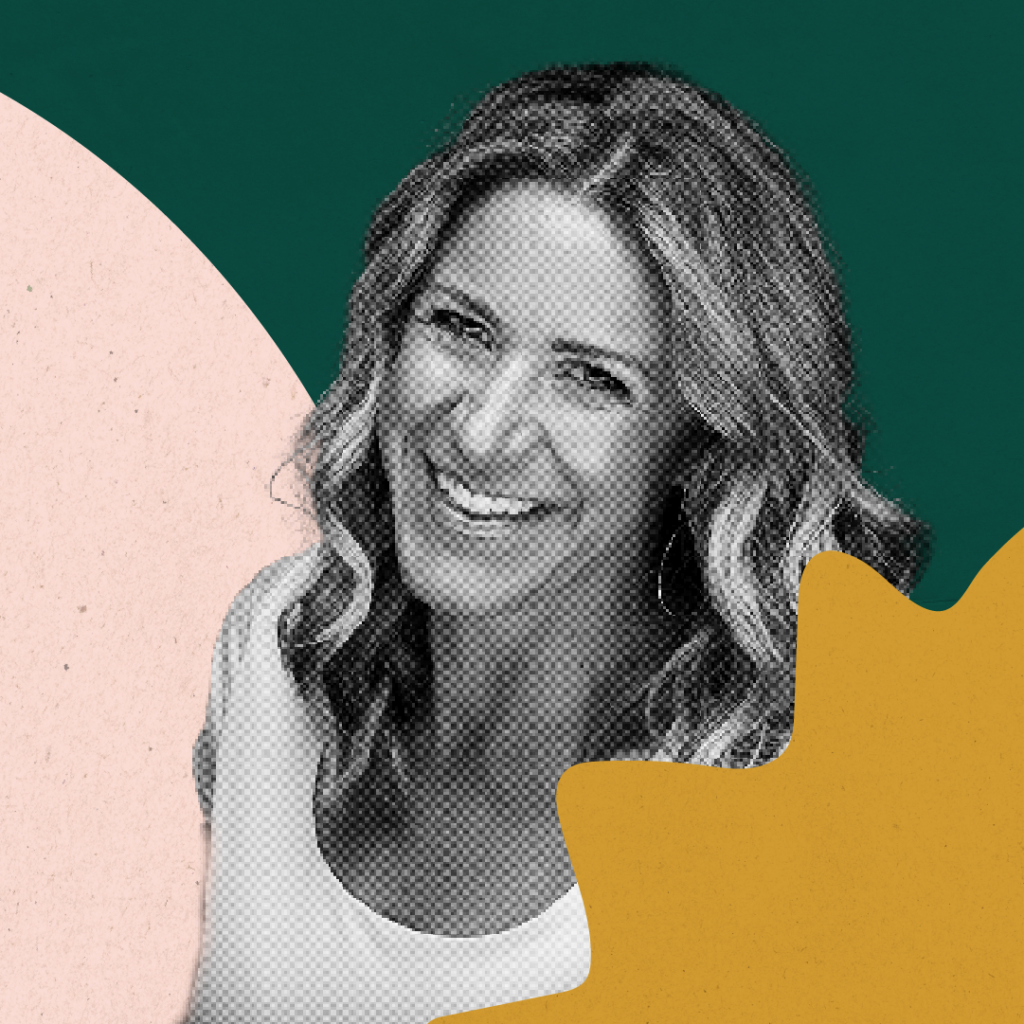 To know Kate Holgate is to know Kate Holgate. Kate has never met a stranger. She is energized by connecting with people and loves the challenge of making others laugh. Her reputation precedes her—because it's a good one. Kate has big ideas and an even bigger heart.
We sat down with our Chief Creative Officer to learn more about what inspires her as a leader.
Was leadership always a goal for your career?
I started my journey straight out of college in 2001 as one of only three women in an office of 10 men with established careers—I'm pretty sure I got hired because I knew how to code HTML and could make something move on a screen. I was a graphic designer and did not know the first thing about marketing! I got lucky falling into the agency world. Back then, I was more interested in learning everything I could from the great people I had the pleasure of working with daily. I never really considered myself a leader because I had this perception that I "didn't fit the mold." It wasn't until I started working with Dave Cook—my creative director and concepting partner for over a decade—that I began to have confidence in my own leadership potential. He saw that I had the ability to come up with ideas, and really nurtured my growth.
How did others help you on your path to leadership?
My parents always encouraged me. I grew up in a wonderful, supportive family. I learned a lot from my dad's leadership style. He's a retired ER and family-practice physician, and one of the kindest, least-pretentious people I know. He built a very successful practice and cared deeply for his employees and patients. My dad lacked a big ego that I feel is often synonymous with leadership—he rode a scooter to work with a milk crate on the back, threw holiday parties for his staff at his home, and was still a visionary in his field. He also has a zillion hobbies and taught me the value of being a lifelong learner.
My executive leadership counterparts, Jaime and Tracy, have also helped me to realize my potential. Jaime's the type of leader who listens intently, and invites you to weigh in. She also fully supports my crazy ideas. Tracy has incredible management experience which has helped me hone in on my own management style. They are also my travel moms.

What traits do you find are important in a leader?
A good leader is empathetic, confident, and decisive. I lead from a place of positive intent and instinct, which helps me make sound decisions. I also make a great junior copywriter and feel that good leaders are not above jumping in and helping when necessary.
I think optimism and grit are also important. My dad used to tell me "chin up, eyes forward." An innovative leader can't be afraid to fail. There are always more ideas. And the ones that take the most courage tend to be the most memorable.
How do you show up as a leader?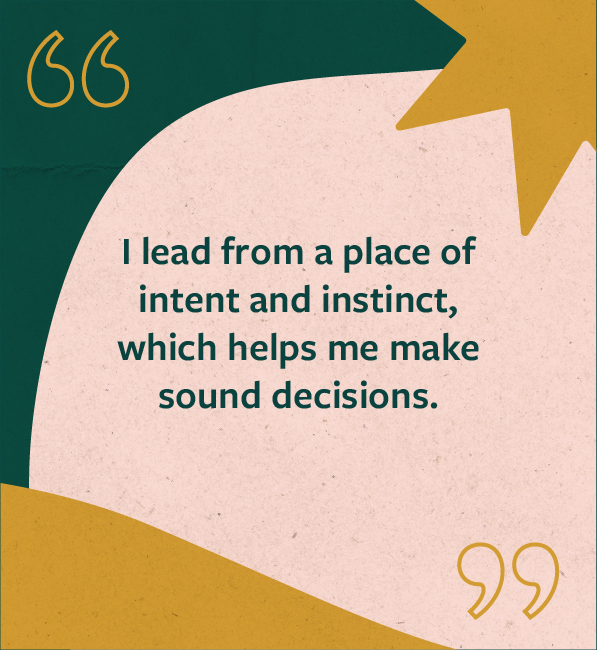 I'm not afraid to wear my heart on my sleeve. I sincerely care about our team, and it fills my bucket to see them thrive—it's the most fulfilling aspect of my role. I try to offer encouragement and support to help them achieve their goals. I also know when to step back and let them run with it. I am passionate about what we do and the creative we offer our clients—I truly feel we have the ability to make change. I think that I am pretty good at getting people fired up because I can't hide how I feel about something that I believe in. And I really, really believe in our team.
After twenty years if I've learned anything, it's that there's always something new to learn. I'm curious and invite the team to stay curious with me. I love thinking big and connecting a juicy creative idea to a client's strategic imperatives. The evolution of technology, the sheer variety of industries we serve, the constant challenge of saying something worthwhile that stands out—there is never a dull moment in this industry. I want to inspire our team to keep pushing for the best because I know we can make a difference.
Why do women make good leaders?
I think women have a more empathetic approach to leadership. Employees thrive when you care more about them as a whole human being vs. their job function. I also believe that women are more flexible. For example, working parents juggle a lot, but shouldn't have to choose between giving 100% to their career or their family. As a female-led agency, we have developed policies that back up having a life outside of the office. Women are better listeners and create space to allow others to grow.
Who are some female leaders who inspire you?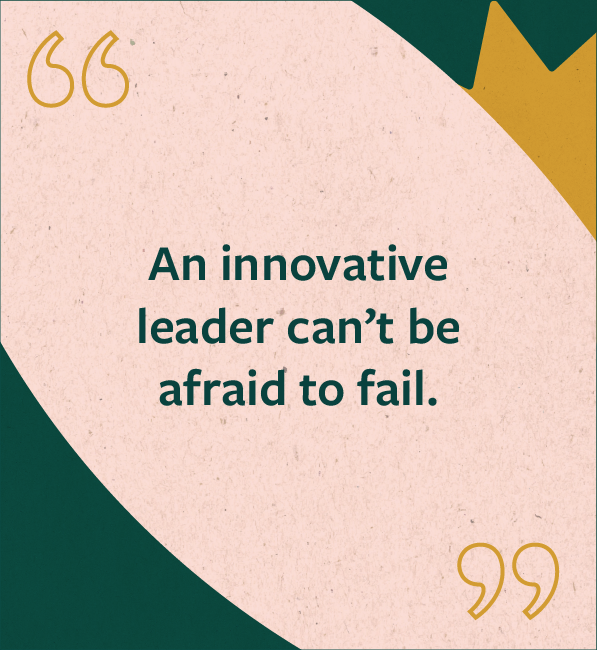 My mom was a nurse before she became a stay-at-home parent. She did not have a traditional career in my formative years, but she had a really tough full-time job—raising three kids. She was not only the "leader" of our family, she also held several leadership roles in our community. She dove into volunteer work—she organized the school fundraisers, led church drives, and held various board positions. I most admired her commitment to human beings—it fueled everything she did. She also had a gift for connecting with people no matter their background. My mom would literally sit in the front seat of a cab and would know the driver's life story before we reached our destination. Unfortunately, I might have picked up that habit. She was resilient through her battle with cancer. When we lost her, I vowed I would always step up and lead with my heart, the way she did.
I'm also inspired by a fellow agency leader and my dear friend, Jennie Myers. She has built an agency with a beautiful vision and a strong ethical compass. She has mentored me along my journey to leadership and offered great advice.
Honestly, the women I'm surrounded by each day—my team, my friends, my daughter—all influence and inspire me in some way.
What advice would you give a woman who is interested in leadership?
Find a mentor. Believe in your own gifts and challenge yourself to keep growing. Look at opportunities through the lens of "why not?" Be open to learning and okay without not knowing all of the answers. Surround yourself with people who teach you something. Don't cultivate fear. Keep a sense of humor—life is full of messy and defining moments. It fuels creativity. And never forget the power of being yourself. It's probably pretty awesome.